Tik Tu (UA) and a screening of Viera Dubačová movie, 17.3.2023
---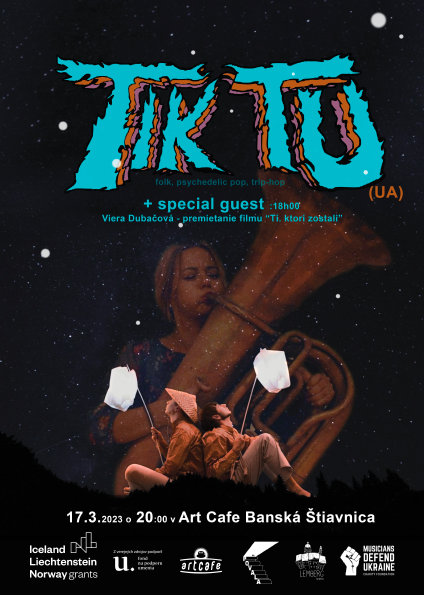 We cordially invite you to our attic on March 17, 2023 from 6 p.m., where a small event dedicated to the war in Ukraine will be held.
The war has been going on for more than a year, and many people have not left Ukraine, but face it determinedly every day in the ruins of their towns and homes, or in the trenches at the front. The director Viera Dubačová, in cooperation with her friend and producer, Lucia Štasselová, travels to Ukraine to visit them and record a documentary series about "Those who stayed". We already watched the first episode at Art Cafe in September, during the Amplión festival, and now we have the opportunity to see the second or even third episode on Friday 17.3. at 6:00 p.m. After its screening we can ask both ladies questions in the discussion.
The Tik Tu concert will follow at 8:00 p.m.
Tik Tu is a band formed in 2014, that brings an eclectic mix of electronic and live sound, using samplers, flute, violin, drums and bass during live performances. Their vocalist Natalie is a delicate performer with lyrics in English, Ukrainian and Lithuanian. In 2016 Tik Tu released their first LP Shuma, which became one of the best albums in Ukraine that year. In 2019 they made a few EU tours to support their second album "Ulitakis". In 2022 band members founded a Musicians Defend Ukraine fund, which helps musicians on the frontline in Ukraine. 50% of the tour income will be donated to this initiative.
As part of the SLICE, Slovakia Icelandic Cooperation in the Development of Small Cultural Centers project (CLT02019), this event was financially supported by the citizens of Iceland, Liechtenstein and Norway through EEA Grants and co-financed from the state budget of the Slovak Republic and OZ Povala's own resources.
This event was also supported from public funds by Slovak Arts Council.