JFDR (Iceland) at Art Cafe / 27. May 2023 / 8PM
---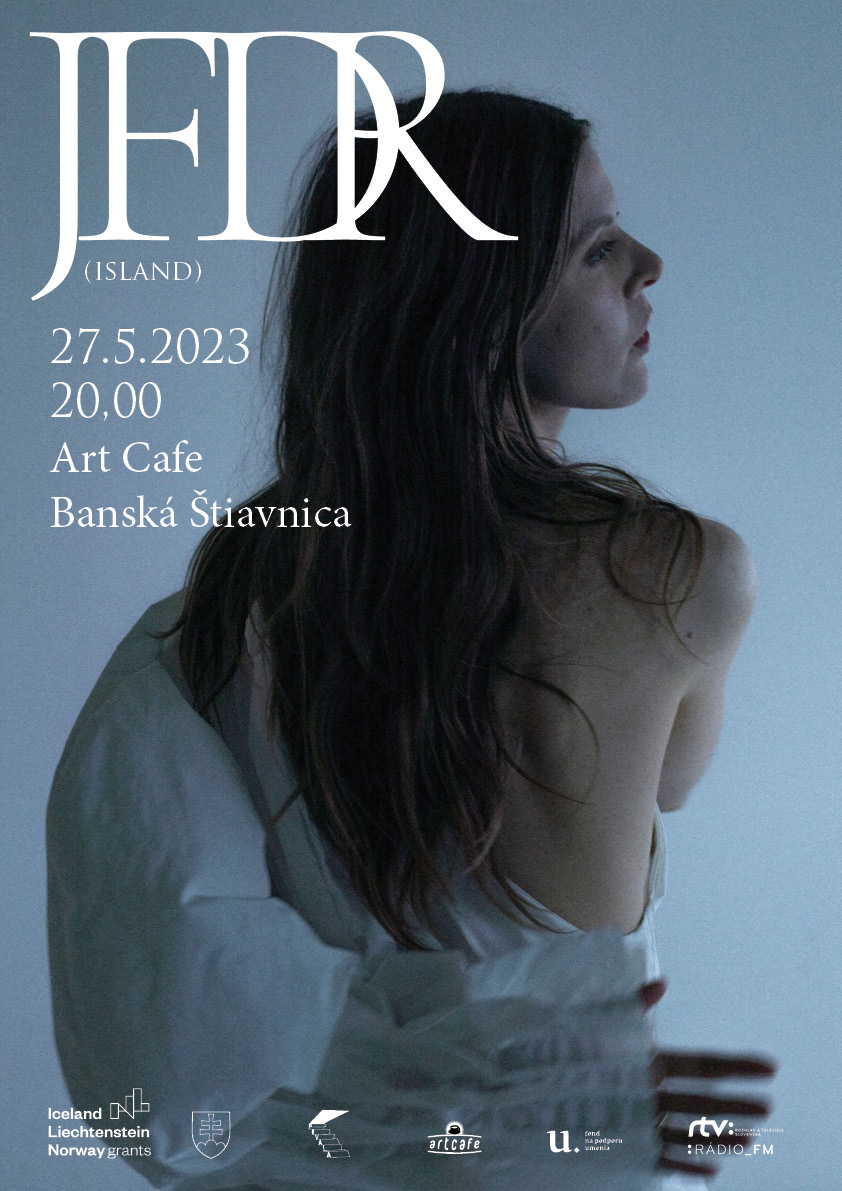 JFDR is the project of Icelandic experimental singer, songwriter, and multi-instrumentalist, Jófríður Ákadóttir. You can look forward to her concert on Saturday 27.5.2023 at 20:00 at Art Cafe Banská Štiavnica. The singer is coming to Slovakia as part of the artistic exchange of the SLICE project: Slovak Icelandic cultural exchange.
Jófríður announces Museum, her new album and debut for UK tastemakers Houndstooth, out April 28th. She says Museum is "an album about clearing and healing; like breathing fresh strong air through your old self." Inspired by the discovery of ideas lost to time after a period of creative stasis, its nine songs capture fleeting moments into a timeless monument. On the haunting lead single/video "Spectator," Ákadóttir's voice is a glowing aura in a mist of glittering guitar and delicate instrumentation. "I am the spectator, I am the middle man," she intones in a half-whisper before later asking, "How can I help you if I always get it wrong?"
As a 14 year old in Reykjavik, Ákadóttir began her musical career, exploring the vast universe of experimental music while retaining a massive heart at her core. Over the past 12 years, Ákadóttir has released 12 records, including as a member of Pascal Pinon and Samaris, collaborated with renowned artists Ólafur Arnalds and Damien Rice, scored the award-winning Icelandic film Backyard Village, and garnered fans across the world – including Björk, who cites Ákadóttir as an inspiration. Following 2017's Brazil, her first record as JFDR, Ákadóttir returned with 2020's New Dreams, "very haunting, electro-pop music, that's very subtle, very inward looking" (NPR Music) and "the kind of album that might give you space to reach your own small revelations" (Stereogum).
As part of the SLICE, Slovakia Icelandic Cooperation in the Development of Small Cultural Centers project (CLT02019), this event was financially supported by the citizens of Iceland, Liechtenstein and Norway through EEA Grants and co-financed from the state budget of the Slovak Republic and OZ Povala's own resources.
This event was also supported from public funds by Slovak Arts Council.
*****
Website: https://jfdrcurrent.com/
Instagram: https://www.instagram.com/j0fridur/
Tickets available: https://tootoot.fm/sk/events/6409a1b7e7ff3011385c1589