Tik Tu (UA) concert and a screening of Viera Dubačová movie, "Those who stayed" / 17.3.2023
---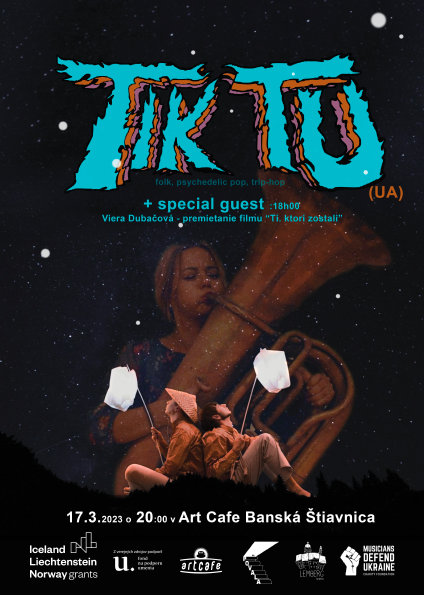 We would like to invite you to our attic on March 17, 2023 from 6 p.m., where a special event dedicated to the war in Ukraine will be held.
The war in Ukraine has been going on for more than a year, and many people have not left, but face it every day with determination in the ruins of their towns and homes, or in the trenches at the front. The director Viera Dubačová, in cooperation with her friend and producer, Lucia Štasselová, travels to Ukraine to see them and makes a documentary series called: "Those who stayed". We already watched the first part at Art Cafe in September during the Amplifier festival, and now we have the opportunity to see the second part on Friday 17.3. at 6:00 p.m. and after its screening we can ask questions both ladies in the discussion.
The Tik Tu concert will follow at 8:00 p.m.
Tik Tu (translated as "Only you") is an eclectic band from Ukraine that combines pop, folk and indie with a smooth vocal voice of Nataly. The group was founded in 2014. It combines electronics with instruments such as flute, violin, percussion and guitars and is currently one of the most famous Ukrainian bands. In addition to Ukrainian, singer Nataly sings in English and Lithuanian. The song "All My Gods", recorded by Tik Tu with Lesik Omodada, was named one of the best in the US charts by the online music magazine Stereo Embers in 2015: https://youtu.be/RLtJ5jsPiWc. Their first LP called Shuma (2016) became the most outstanding album of the year in Ukraine. The European tour in 2019, when they also visited Slovakia, contributed to the release of the second album "Ulitakis".
After the outbreak of the war in Ukraine, the band members founded the initiative Musicians Defend Ukraine foundation, the aim of which is to help musicians fighting on the front line. Therefore, the band dedicates 50% of the fee to this purpose.
Even after a year of war, we stand symbolically on the side of our Ukrainian brothers and sisters who fight and die for our values and freedom. We wish them the end of the horrible war as soon as possible. Together with the band, we donate the entire collected entrance fee to charitable purposes of MDUF.
This event was made possible thanks to the support of the EEA Grants. The project "Slovak-Icelandic cooperation in the development of small cultural centers" – SLICE, received a grant from Iceland, Liechtenstein and Norway through the EEA Financial Mechanism and funds from the state budget of the Slovak Republic. If you want to learn more about programs and projects financed by EEA Grants in Slovakia, visit www.eeagrants.sk. You can find more about the SLICE project at www.artcafe.sk/SLICE
*****
The organization of this event was financially supported by the Art Support Fund from public sources too.