Katarína Máliková at Mengi / Iceland / 1.2.2023 at 8PM
---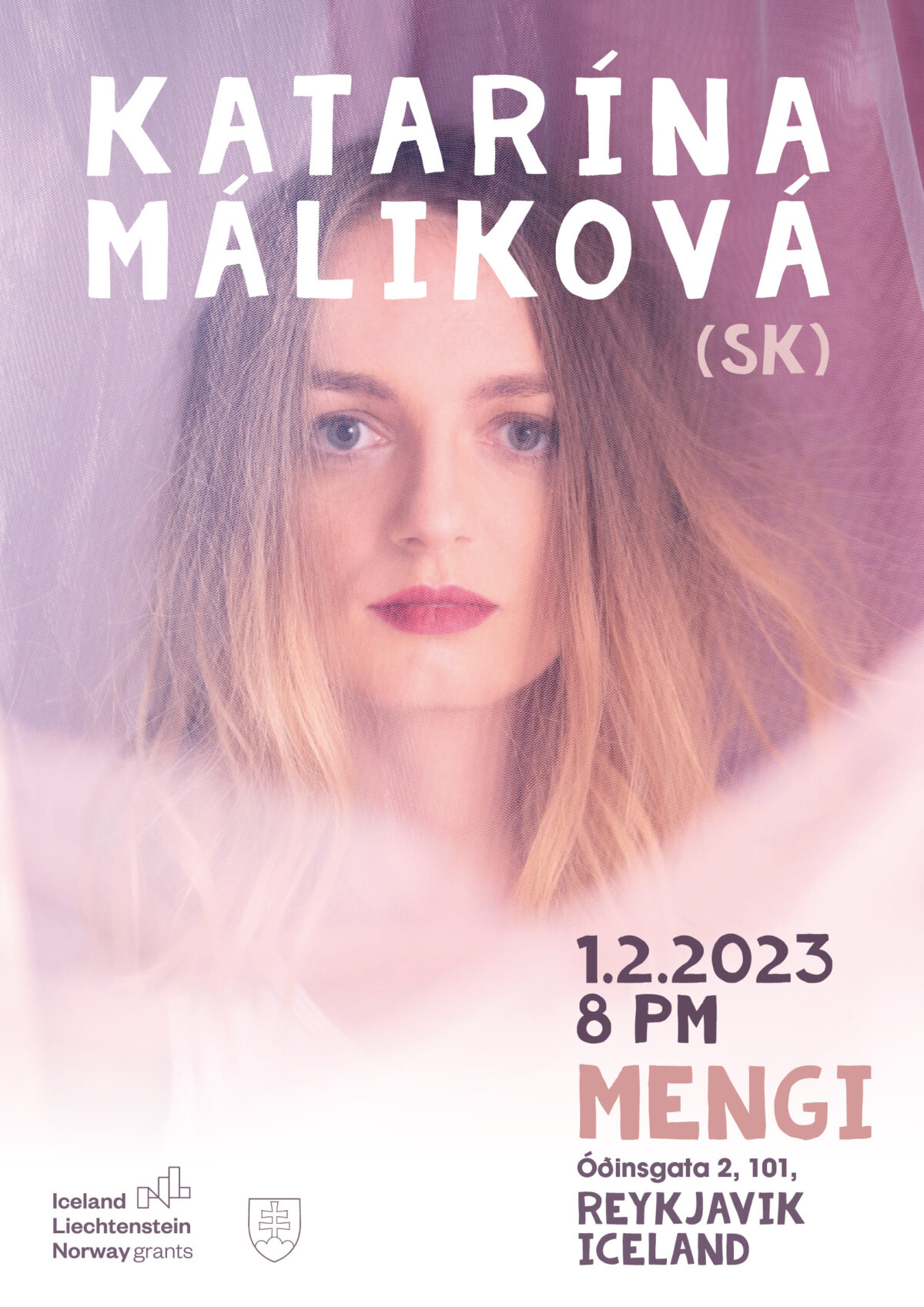 Katarína Máliková is Slovak singer-songwriter, pianist, composer and music producer.
Studied classical piano and composition. Her music builds on a distinct vocal with a wide ambit. Ethereal on the surface, but full of beasts — as is her music. Fragile, pressing and immediately wild and harsh, with a gloomy premonition. Neo-classical, minimal synth-pop with elements of experiment, glam rock, retro of 70s and 80s, based on both Slovak folk and also pop tradition, with a classical craft of a composer and performer. Gothic and minimalistic, inconspicuous, as well as full of expressiveness and drama at the same time. Her music is as a film noir with occasional bittersweet moments.
Katarína received various awards during her studies of classical music and also after releasing her both albums. She's performed in 10 countries in various venues and festivals and her music was played at radios like KEXP or BBC6.
About Postalgia:
"Very soft, hazy but strong memory of something that never happened. One discovers the dark and deep corners of female soul, the ephemerality of romantic relationships, our past and the nuances of childhood memories that accompany and influence us through our lives." Katarína Máliková on her second album goes beyond the world music genre and shifts to new, unexplored sound sources. In the repertoire of Postalgia, it preserves the fragility of piano arrangements and singing, which still in some cases refers to the dark polyphonic vocal from "Horehronie" region, but we can hear new instruments, synthesizers, or inspirations from Scandinavian synth-pop. Album is consisting of 9 original songs and one cover. Postalgia was successful mainly in Slovakia, winning the Critic's choice at Slovak music awards in 2020 and the song Vodník was a Song of the day at KEXP.
The concert is made possible by cooperation between Art Cafe Banska Stiavnica (SK) and Rockall (Iceland).
*****
Financial support of the event in Iceland:
The "Slovak – Icelandic cooperation in development of small cultural centres" – SLICE project, benefits from a € 111 039 grant from Iceland, Liechtenstein and Norway through the EEA Grants. The project has been co-financed from the State Budget of the Slovak Republic in the amount of 16 656 €. The main aim of the joint project is to bring cultural activities to young people, seniors and excluded communities. If you want to know more about programs and projects financed by the EEA Grants in Slovakia, visit www.eeagrants.sk
Doors open 19.30 // 7.30PM
Concert starts 20.00 // 8.00 PM
Free admission